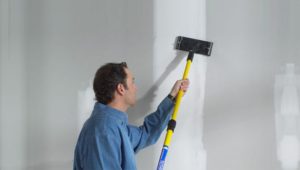 We are the best solution providers for waterproofing for water leakage in your building or house.
Waterproofing
Waterproofing is making an object or structure waterproof or water-resistant so that it remains relatively unaffected by water or resists water ingress under specified conditions. Such may use such items in wet environments or underwater to specified depths.
Who inspects waterproofing?
A building inspector or waterproofing specialist qualified to spot problems and recommend solutions must perform this inspection because waterproofing failures are not always easy to spot! In many cases, waterproofing issues are minor problems that mask a more prominent issue. The Caretaker has the best waterproofing specialist to provide the best services to their precious customers.
Who does waterproofing?
Are you wondering how waterproofing works? A  Caretaker is the best waterproofing company in Rawalpindi and Islamabad, and we have been providing the best waterproofing services to Rawalpindi and Islamabad residential, commercial, and industrial consumers.
Where to apply waterproofing?
"Roof Waterproofing" Services for Roof Leakage Problems
"Bathroom Waterproofing" Services for Bathroom Leakage Problems
"Water Tank Waterproofing" Services for Water Tank Leakage Problems
"Wall Waterproofing" Services for Wall Leakage Problems
"Basement Waterproofing" Services for Basement Leakage Problems
"Rain Leakage Waterproofing" Services for Rain Leakage Problems
"Foundation Waterproofing" Services for Foundation Leakage Problems
Other Waterproofing Services for Other Leakage Problems.
Where is waterproofing used?
Waterproofing is used in building structures (such as basements, decks, or wet areas), watercraft, canvas, clothing (raincoats or waders), electronic devices, and paper packaging (such as cartons for liquids.
 Where is waterproofing necessary?
Waterproofing is required in concrete structures to keep moisture out of the facility and protect the structural components of concrete and embedded reinforcing steel. If the integrity of the concrete is maintained, it can remain waterproof.
Are waterproofing fumes toxic?
Waterproofing sprays – also known as leather or fabric protectors – can contain potentially toxic hydrocarbons that pose a dangerous hazard to our animal companions. Yet this hazard is unfamiliar to most people.
Wall waterproofing
Featured snippet from the web
ISOMAT FLEX COAT is the ideal solution for waterproofing external surfaces against rain. It is a highly elastic, high-quality water-soluble paint, based on acrylic elastomeric resins. ISOMAT FLEX COAT makes walls impermeable by rain.
Can you waterproof the inside of a wall?
DO apply a masonry waterproofing product to bare interior basement walls. If your foil test showed that water is soaking through your basement walls and leaving them wet, seal the interior of the walls with high-quality waterproof paint, such as DRYLOK White Extreme Waterproofer.
How do you waterproof damp walls?
The most common way to damp-proof a wall is to apply a damping resin, epoxy, or spray to the surface of the wall. You can also use plastic sheeting to cover exterior wood walls, or silicone to fill in gaps in masonry and keep dampness out.
How do you waterproof a brick wall?
Pour a brick sealer into a paint tray. Use a standard masonry sealer on most brick surfaces. For chimney bricks, select a sealer specifically formulated for this purpose. Chimney sealers allow moisture to escape from inside the chimney while still waterproofing the exterior.
What is best for damp walls?
An easy solution to cure dampness on internal walls is to paint walls and ceilings with Dryzone Mould-Resistant Emulsion Paint. The paint damp-proofs internal walls against condensation and protects for at least 5 years from unwanted mold growth.
What is the best waterproofing for exterior walls?
ISOMAT FLEX COAT is the ideal solution for waterproofing external surfaces against rain. It is a highly elastic, high-quality water-soluble paint, based on acrylic elastomeric resins. ISOMAT FLEX COAT makes walls impermeable by rain.
How do you weatherproof an exterior wall?
If applied properly, waterproof paints create a barrier on the surface of the wall, keeping them safe from moisture and fungus. For better results, use waterproof primer on your bare walls before applying a fresh coat of paint. There are three main types of paints available in the market to waterproof a wall.
Is waterproofing bricks a good idea?
Yes, a waterproof treatment is ideal, however, a brick & masonry 'sealer' is not a good idea. The term sealer or sealant refers to a product that 'seals' a surface, preventing moisture from entering. The vast majority of the sealers do this by creating a film on the surface, which acts as the waterproofing layer.
Is sealing brick a good idea?
The Brick Development Association states, 'We believe the use of sealants and water repellent treatments on brickwork is unnecessary and take the view that properly specified and built work performs perfectly satisfactorily in resisting water penetration by wind-driven rain, without their need.
How do you stop rising damp on brick walls?
The only way to treat rising dampness is to create a new damp-proofing course to prevent moisture movement through the structure. Historically, walls were cut into and masonry removed to install a new physical damp-proofing course along the masonry line.
Why is waterproofing used?
Waterproofing is a method that prevents water from penetrating your house. Waterproofing is vital as it helps keep your house dry. It helps reduce humidity inside the house and thereby protects things inside your house from damage caused due to humidity or water exposure.
Wall Waterproofing Services in Islamabad /  Wall Waterproofing Company in
The caretaker is providing premium quality roof waterproofing services in Islamabad with the backing of an experienced and professional team and therefore we are legitimately recognized