We are the best solution providers for waterproofing for water leakage in your building or house.
Waterproofing
Waterproofing is making an object or structure waterproof or water-resistant so that it remains relatively unaffected by water or resists water ingress under specified conditions. Such may use such items in wet environments or underwater to specified depths.
Who inspects waterproofing?
A building inspector or waterproofing specialist qualified to spot problems and recommend solutions must perform this inspection because waterproofing failures are not always easy to spot! In many cases, waterproofing issues are minor problems that mask a more prominent issue. The Caretaker has the best waterproofing specialist to provide the best services to their precious customers.
Who does waterproofing?
Are you wondering how waterproofing works? A  Caretaker is the best waterproofing company in Rawalpindi and Islamabad, and we have been providing the best waterproofing services to Rawalpindi and Islamabad residential, commercial, and industrial consumers.
Where to apply waterproofing?
"Roof Waterproofing" Services for Roof Leakage Problems
"Bathroom Waterproofing" Services for Bathroom Leakage Problems
"Water Tank Waterproofing" Services for Water Tank Leakage Problems
"Wall Waterproofing" Services for Wall Leakage Problems
"Basement Waterproofing" Services for Basement Leakage Problems
"Rain Leakage Waterproofing" Services for Rain Leakage Problems
"Foundation Waterproofing" Services for Foundation Leakage Problems
Other Waterproofing Services for Other Leakage Problems.
Where is waterproofing used?
Waterproofing is used in building structures (such as basements, decks, or wet areas), watercraft, canvas, clothing (raincoats or waders), electronic devices, and paper packaging (such as cartons for liquids.
 Where is waterproofing necessary?
Waterproofing is required in concrete structures to keep moisture out of the facility and protect the structural components of concrete and embedded reinforcing steel. If the integrity of the concrete is maintained, it can remain waterproof.
Are waterproofing fumes toxic?
Waterproofing sprays – also known as leather or fabric protectors – can contain potentially toxic hydrocarbons that pose a dangerous hazard to our animal companions. Yet this hazard is unfamiliar to most people.
Are bathroom waterproofing fumes toxic?
The waterproofing membranes and primers are not harmful or toxic. Apply products in well-ventilated areas. Splashes on the skin and eyes must be washed away with clean water.
What areas in a bathroom need to be waterproofed?
The entire shower floor must be waterproofed.
Shower walls must be waterproofed up to at least 1800mm.
The walls must be waterproofed up to at least 150mm.
Over the hob or step down must be waterproofed to at least 150mm.
Does the whole bathroom need to be waterproofed?
If the bathroom floor is above ground level or made of timber, plywood, or particleboards, the entire bathroom floor must be waterproofed.
What is bathroom waterproofing?
Waterproofing a bathroom involves applying a physical barrier to the floors and walls to prevent moisture penetration into the structure of the home. The waterproof membrane is applied before tiles are laid to protect the walls and subfloor.
How to test bathroom waterproofing?
Waterproofing of slabs shall be tested by ponding the surface with water to a depth of 50 mm for 48 hours or longer. This tests the water tightness of the floor. The test is found satisfactory if there is no leakage and there are no damp patches observed on the surface of the floor.
Bathroom floor waterproofing
Step 1: Check surface adhesion
Step 2: Clean work area
Step 3: Apply corner pieces
Step 4: Apply tape to corners and edges
Step 5: Waterproof plumbing fittings
Step 6: Apply membrane on walls
Step 7: Correction and finishing
Step 8: Apply membrane to the floor for bathroom sealing
Why bathroom waterproofing?
Having your bathroom waterproofed is one of the most important aspects of a home improvement project. That's because waterproofing not only protects structures against damage but also eliminates possible health concerns. Washing and bathing produce a lot of water vapor in bathrooms.
How do prevent water damage in the bathroom?
Regularly check for signs of leaks
Repair or replace cracked, broken, or missing tiles, which allow water to seep in behind walls and under floors
Test valves for your toilets, showers, and sinks regularly to ensure they are properly working
How to stop water leakage in the bathroom?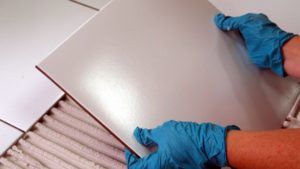 Water can also seep around the edges of tiled areas. To prevent this from happening, a silicone sealant should be used to seal the joints between tiles and other surfaces such as windows, sinks, and walls at the edges of splash backs.
Bathroom Waterproofing Services in Islamabad / Bathroom Waterproofing Company in
The caretaker is providing premium quality roof waterproofing services in Islamabad with the backing of an experienced and professional team and therefore we are legitimately recognized as the best waterproofing company in Islamabad. The Head Office of Caretaker. offers the best waterproofing in Islamabad.
Bathroom Waterproofing Services in Rawalpindi / Bathroom Waterproofing Company in Rawalpindi
Caretaker offers exceptional waterproofing services in Rawalpindi with the help of an experienced and professional team and therefore we are acceptably acknowledged as the best waterproofing company in Rawalpindi. The Head Office of Caretaker which is providing the best waterproofing in
Rawalpindi